No, my computer is not fixed yet. They have it for the weekend and I'm praying for good news tomorrow. Thank-you to everyone for your well wishes and I will certainly learn my lesson to backup more frequently. My last backup was 7 months ago – not smart of me! In the meantime, I have teamed up with the fabulous All Things for Sale to bring you this amazing bento giveaway. I chose some of my most favorite new bento products available right now and made an adorable bento so you can see what you can do with these products. Now this is just one of many different bento boxes you can make with these awesome new bento supplies. I'm so excited about this giveaway and I think you're about to get very excited too!
Do you like this bento??? Then you're going to love this giveaway!
Here is what's up for grabs:
1. ONE of my favorite bento boxes in your choice of 4 colors. These are by far my favorite bento boxes to use right now. They are the perfect size for Kirsten, she can open and close them easily, I love the leakproof top tier with lid, and I especially love the bright colors. These boxes rock!
2. ONE elastic strap to close your bento box from the following choices:
3. An awesome set of 4 deco animal cutters. That's right, you get all four – bear, rabbit, seal and chick. I love making small sandwich wraps and then cutting a piece of lunch meat with these cutters and wrapping it around the sandwich. You can also wrap them around rice balls too. Are these not the cutest bento accessory you've ever seen?? These are a bento must-have. The kiddos love them.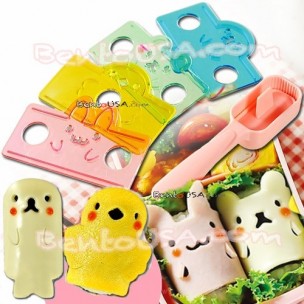 4. A set of three of my current most favorite silicone cup molds. You get a pea pod, some cherries, and an orange. They are a little larger than the usual small silicone containers, and they are absolutely adorable. Definitely a favorite of mine.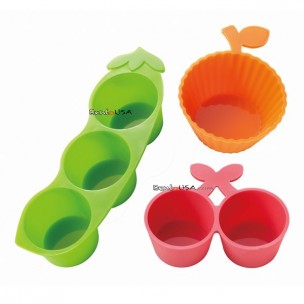 5. And finally, an adorable set of 8 food picks. These picks feature 4 different foods, all with adorable little faces on them. Isn't everything always cuter with a sweet little face?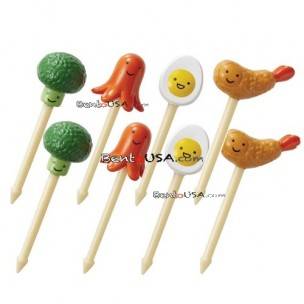 Is that not an awesome giveaway?? Do you want to win this awesome loot of bento goodness?? Here are the specs:
This giveaway is open to everyone worldwide!
Please make sure your comment either links to your email address, or you leave me your email address in the comment. If you win and I
have no way to contact you, I will have to draw for a new winner.
This giveaway is open until Tuesday April 24th. I will close the comments down that evening and draw for a winner.
Here's what you have to do to enter: (if you already do these things, just leave a comment indicating so)
1. Leave me a comment telling me why you love bento!
Want additional entries? Please leave a separate comment for each item listed below that you complete:
2. Follow my blog via Google Friend Connect (in my sidebar)
3. "like" Meet the Dubiens on Facebook here
4. "like" All Things for Sale on Facebook here
5. Follow All Things for Sale/Bento USA on Twitter here
6. Follow All Things for Sale/Bento USA on Pinterest here
7. Share this giveaway on either your blog and/or Facebook page.
8. Tweet this giveaway
Good luck everyone and thanks again to All Things for Sale for hosting this amazing giveaway!